"Evolution" Library Pack
Only 5 in stock!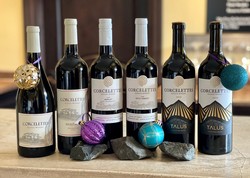 Each wine included in this exclusive offer is a either a Micro Lot Series Library wine and/or a top scoring, medal winning wine. In this package you will receive the following-
Syrah 2015 (Micro Lot Series)

Meritage 2015 (Gold Medal Winner NWAC 2018)

Merlot 2016 (Silver Medal Winner NWAC 2019)

Petit Verdot 2016 (Micro Lot Series and Gold Medal Winner NWAC 2019)

TALUS 2019 x 2 (Gold Medal Winner NWAC 2021)
We are offering free shipping within BC and Alberta, using coupon code "evolution". We only have 36 packages in stock, so these will be available on a "first come first serve" basis. Enjoy the evolution of Corcelettes!