The team behind the dream...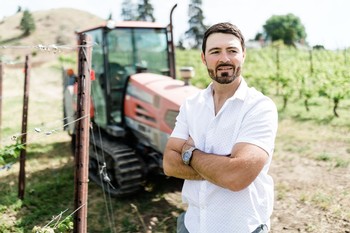 Charlie Baessler - Partner, Viticulturalist, & General Manager
Charlie has deep family roots in sustainable farming in Switzerland. Generations of progressive agricultre left an imprint on his DNA which led to his pursuit of a degree in environmental science, now applied to viticulture and winemaking. While science and precision are at the foundation of Charlie's craft, it takes more to create something really special. Charlie's experience and hands-on approach gives him deeper perspectives of terroir which are revealed in site-selection, an appreciation of the unique characteristics of each vineyard and the ability to coax the best from each varietal to create wines that reflect that specific terroir. The magic is in carefully balancing terroir-driven viticulture practices, environmental sustainability and progressive winemaking techniques.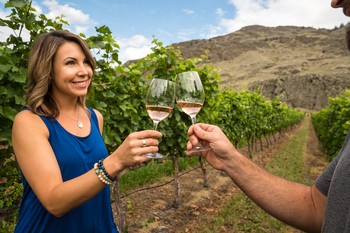 Jesce Baessler - Partner, Sales & Marketing
Jesce has roots in Canada's far north- roots that foster independent thinking, an equally strong love of land, and a desire to share the bounty and beauty of their hard work. Jesce comes from an aviation background, where she was put to work for the family business in her youth, learning customer service and logistics management as a third generation northerner. Jesce's enthusiasm and commitment to create a remarkable experience in the tasting room and in your glass is infectious.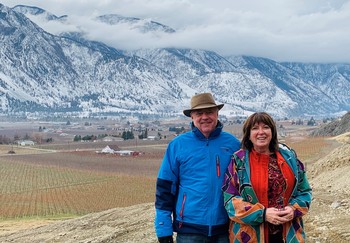 Gord & Diane Peters- Partners, Sales & Hype Team
Gord and Diane, long term personal friends of the Baessler family, became partners with Charlie and Jesce in 2014. Sharing a passion for wine, agriculture and community, they bring a world of business experience and entrepreneurial spirit to the team. Gord and Diane are more well known in the railroad industry for spearheading Cando Rail, a highly successful and skilled company that specializes in rail safety across the country. They can be found at the winery at any given time, assisting with planting, harvesting, or tasting!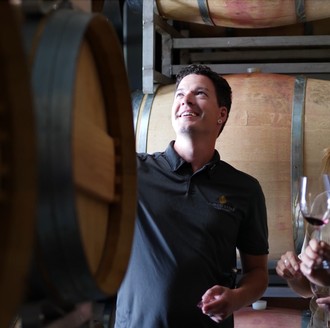 Brett Meier - Winemaker
Brett joined us in 2019 as a key player in our cellar and viticulture program. He brings forth several years of experience in the wine industry and has an incredible wealth of winemaking knowledge. Brett is meticulous in everything he does and is always keeping us "up to speed" on cutting edge winemaking tools and techniques. If you happen to visit us on the right day of the week, you may get the chance to be guided through our wine portfolio by Brett himself, who offers a wealth of hands on knowledge of our wines. Brett was officially promoted to Winemaker in 2022, and continues his outstanding work in crafting our wines with precision and passion.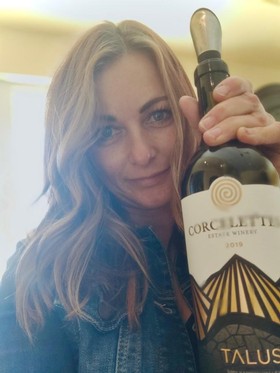 Larissa Henschell - Wine Shop Manager & Head of Hospitality
Larissa, originally from Germany, is extremely hands on in all aspects of our farm. With a diverse background in family business & customer service, Larissa brings a unique skill set to our team and offers a cheerful and informative tasting experience. All of the wines she pours she has helped to grow, harvest, crush, ferment, press, and bottle- she does it all with us! Larissa is an absolute gem, with the wonderful people skills, and suited perfectly to being a key team member at Corcelettes.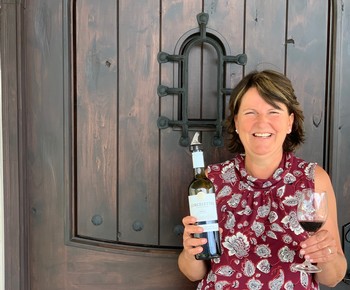 Lisa Zbinden - Wine Ambassador & Cellar Hand
Lisa has been with us since nearly day one! She is involved in all aspects of Corcelettes- the vineyard, harvest & crush, the cellar and of course, the wine shop. Lisa is a woman of many talents- artist, beekeeper, pastry chef, farmer, grandmother extraordinaire- however she still finds time to lend a hand at Corcelettes during our busy season and we are thrilled to have her as a long-term member of our team.
Vineyard Operations aka "The Dream Team"
Meet Marcello, Alejandro, Manuel, Josue & Balthazar. These fine gentlemen are from Mexico spend up to 8 months a year here at Corcelettes, working with us to meticulously manage our vines and vineyard health. These guys make it happen and we are grateful to have such a skilled team in the vineyard. Be sure to wave at them when you visit us!