Heavy Metal Awards Pack
No shipping charges!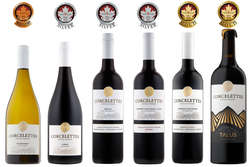 This has been a record year for us in terms of awards and 90 point+ wine ratings, and we are thrilled to share with you a sampling of our most current accoladed wines.
This package includes Chardonnay 2020, Syrah 2019, Merlot 2019, Cabernet-Syrah 2017, Reserve Cabernet Sauvignon 2018, and of course, TALUS 2019.
Makes a wonderful Christmas gift to a fellow wine enthusiast, or a great addition to your own Corcelettes collection!