Menhir Vertical Gift Box
Taxes included in price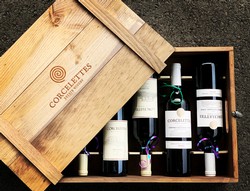 Each vintage is unique, and we've been cellaring these beauties in anticipation of one day releasing them for a "taste" of our history. Each bottle may be hand wrapped (gift wrapping optional- free for Club Corcelettes, $10 for non-members), and this set is presented ever so beautifully in our custom branded 6 bottle boxes. This set includes...
2012 Menhir
2013 Menhir
2014 Menhir
2015 Menhir
2016 Menhir
2017 Menhir (unreleased)
Each vintage is 60% Cabernet Sauvignon, and 40% Syrah (give or take a few percent on a couple of vintages). This was the VERY first red wine we ever made!
We have a very limited amount, and as you know our "limited edition" releases sell out very quickly, so we encourage you to order yours as soon as possible. This makes a highly unique Chirstmas gift for a special loved one, but of course makes a great gift to yourself if you're a fan of our wines.
Club Corcelettes members please login to take advantage of your discount.
*Due to the exclusive nature of these wines, should any be found as "corked" we have no way of replacing them. Should a corked wine be found, we ask that the wine be returned to the winery and a full refund will be offered