Spring "Stay Home" Sampler
Use promo code "HOME2020" for free shipping!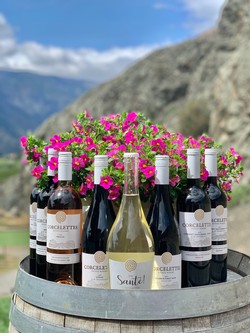 Not sure if you're ready to venture out and about on a wine tour yet? Take advantage of our "HOME2020" promo and receive free shipping until May 31st on this specially curated selection of some of our most coveted wines, including a sneak preview of our Santé Frizzante 2019 which is yet to be officially released!
This package also makes for a wonderful gift for someone who is celebrating a birthday or anniversary! We can ship with a special gift card and wrapping is optional...
---
This selection we have put together includes the following wines...
Santé 2019 x 3 bottles (pre-release!)
Oracle 2019 x 2 bottles (new release)
Reserve Pinot Noir 2017 x 1 bottle (Micro Lot Series)
Petit Verdot 2016 x 1 bottle (Gold Medal NWAC 2019, Micro Lot Series)
Syrah 2018 x 2 bottles (new release)
Cabernet-Syrah 2017 x2 bottles (new release)
Meritage 2017 x 1 bottle (new release)